RMC's Mission and Vision
RMC's Mission Statement:
The Mission of Recreational Music Center (RMC) is to cultivate the joy of making music through relevant, cutting edge teaching methods, making them available to everyone regardless of financial resources or other barriers.
RMC is a non-profit 501(c)3 corporation (Tax Id# 90-0603019).
RMC's Vision:
RMC's vision is that arts education will evolve into a more innovative, engaging, inspiring, and financially sustainable endeavor for teachers, students, and arts education supporters now and in generations to come because RMC provided a replicable model for music education in the 21st century.
This commitment to excellence and innovation in the field of music education is fueled by the belief and first-hand observations that the trajectory of a person's life can be significantly altered by the power of music both emotionally and cognitively. For young children under the age of six, neural pathways (directly linked to higher IQ) are still forming. Music is one of the only activities that can simultaneously stimulate all key areas of the developing brain including, physical, social and emotional, cognitive, language and literacy.
With teenagers and young adults, music can also have a profound affect on the brain and their personal development. Recent findings suggest that the brain does not fully mature until the early twenties. In our work with this age group we have most frequently observed the power of music to elevate mood, instill a sense of pride, overcome difficulties and build community.
To this end, RMC has formed strategic partnerships with such entities as the Monarch School, San Diego Juvenile Court Community School (JCCS), Alternative Schools for Learning, Behavior, and Attitude (ALBA), Urban Corps, and San Diego Unified School District (SDUSD). RMC has provided outstanding and meaningful programming to some of the most vulnerable youth populations in San Diego County.
"
The task of providing a quality education to students that are expelled, homeless, in foster care, on probation, and/or coming out of incarceration is something unappreciated or unnoticed until their behavior rises to the level of newsworthy. Thanks to [educators like RMC], the result [has been] higher self- esteem, academic excellence, improved attendance, increased positive behavior, and has produced more positive contributing members to society and our community."
– Tracy Thomson, Principal of JCCS-Metro
"It never fails…after music class, my kids just work better together. The teasing isn't as harsh, they pool their lunch money and eat together, they just bond somehow and are more kind to each other. It's amazing to watch and a real triumph for this particular group of kids."
-Wendy Kellogg, ALBA Teacher
Brief History of RMC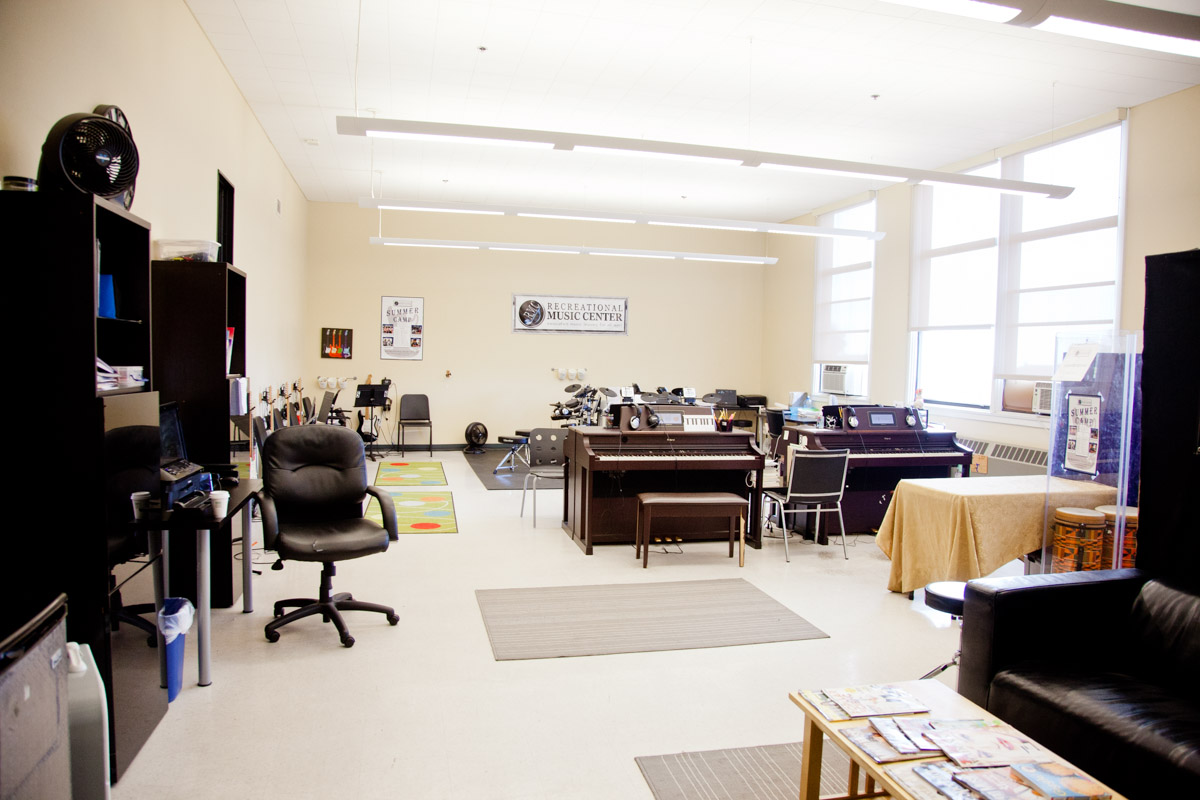 Recreational Music Center was originally started as a Sole Proprietary music school by David and Leslie Gereghty in November of 2008. During the first year of business, RMC taught private, one-on-one lessons as well as group classes with over 30 students. RMC began with four qualified teachers for drums, piano, guitar, vocals, and early childhood classes.
In November of 2009, RMC elected to change its status by incorporating as a nonprofit 501(c)3 organization in order to better meet its goals of spreading quality music education to students throughout the city, county, and beyond regardless of financial resources.
Since then the school has grown to serve over a thousand students each week through off-site school programs across San Diego County and on-site private and group classes. Now with over 30 professional instructors, including 6 program directors and 3 program/school administrators, RMC continues to provide innovative and FUN music lessons on all instruments and for students of all ages (children as young as 6 months old to adult and even senior citizens).