[caption id="attachment_215" align="alignleft" width="100" caption="Photo by kate at yr own risk"]
[/caption] I hear a lot of people talking about staying home this summer; taking a year off from the traditional summer vacation. We have all heard and continue to hear over and over again all the negative news about the housing market, the poor economy, price of fuel, etc. etc. etc. So I am curious:
Are you wondering what you are going to do this summer?

Are you concerned that you, your family, or your children will be bored with all the extra time on their hands?

Are you looking for the perfect activity that will make this summer unique and special?
The old song tells us that "there ain't no cure for the summertime blues", but maybe that's not exactly true. At the
Recreational Music Center
we have found the cure - MUSIC!!! Everybody loves music and everybody can make their own music. You don't have to go far away or spend a lot of money in order to create the "summer of a lifetime". You just have to go for it. This could be the summer that you and your family all embark on the most amazing adventure of your lives by learning how to play a musical instrument. Just think of the hours of fun! You already know you love music so why not start learning to play it yourself. Learning to play an instrument is the most rewarding investment anyone could make and is guaranteed to provide you with hours of endless entertainment and satisfaction. [caption id="attachment_216" align="alignright" width="100" caption="Photo by kate at yr own risk"]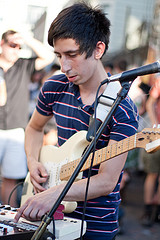 [/caption] Take a break from the stress of travel and the cost of leaving town in search of the perfect summer adventure. The best adventure you can ever imagine already exists inside of you and is begging to get out - MUSIC! Make this summer the summer of expression - your very own musical expression. Learn to play an instrument this summer and I guarantee it will be a summer to remember.